09-27-2017, 11:38 PM (This post was last modified: 09-27-2017, 11:40 PM by Otto Halmén.)
I dug deeper, and found something rather interesting.
The Miroslav Philharmonik VSTi does indeed sound like stereo when you play patches, even with all the effects turned off. Here's an ultra-short test I made:
https://www.dropbox.com/s/fvw03l2lnqb6nt...t.wav?dl=0
Taking a close look at the waveforms, the right channel resembles the raw data import closely. Here, the top two are the stereo render from the VSTi, and the bottom one is the raw data import in mono: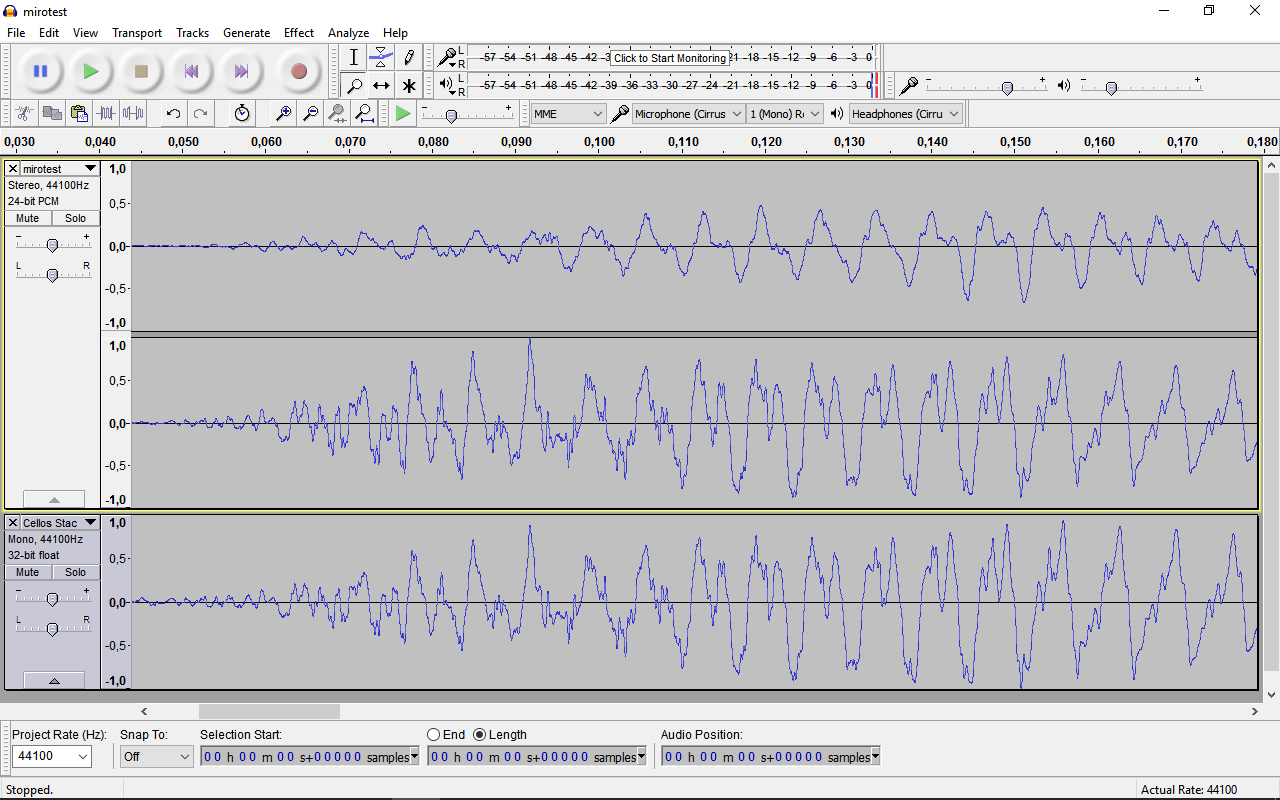 The differences between the right channel and the raw data import look like they can be attributed to the sampler's ADSR, filters, rendering, etc. The left channel is noticeably roomier and softer than the right one, just like Mattias recalled.
Where, then, is this left channel located?
Nowhere I could find it, at least. But I had an idea.
What if the stereo is fake? What if it's created by sending the mono sample through subtly different processing for the left and right channel respectively? We've all done this in a DAW at some point, haven't we?
Therefore, if I were to
replace
the staccato samples with a custom, easily recognizable waveform, surely it would show up in both the left and right channels if that were the case. Audacity allows you exports raw data, so the process was easy.
I replaced the entire "Cellos Stacc.stw" with this: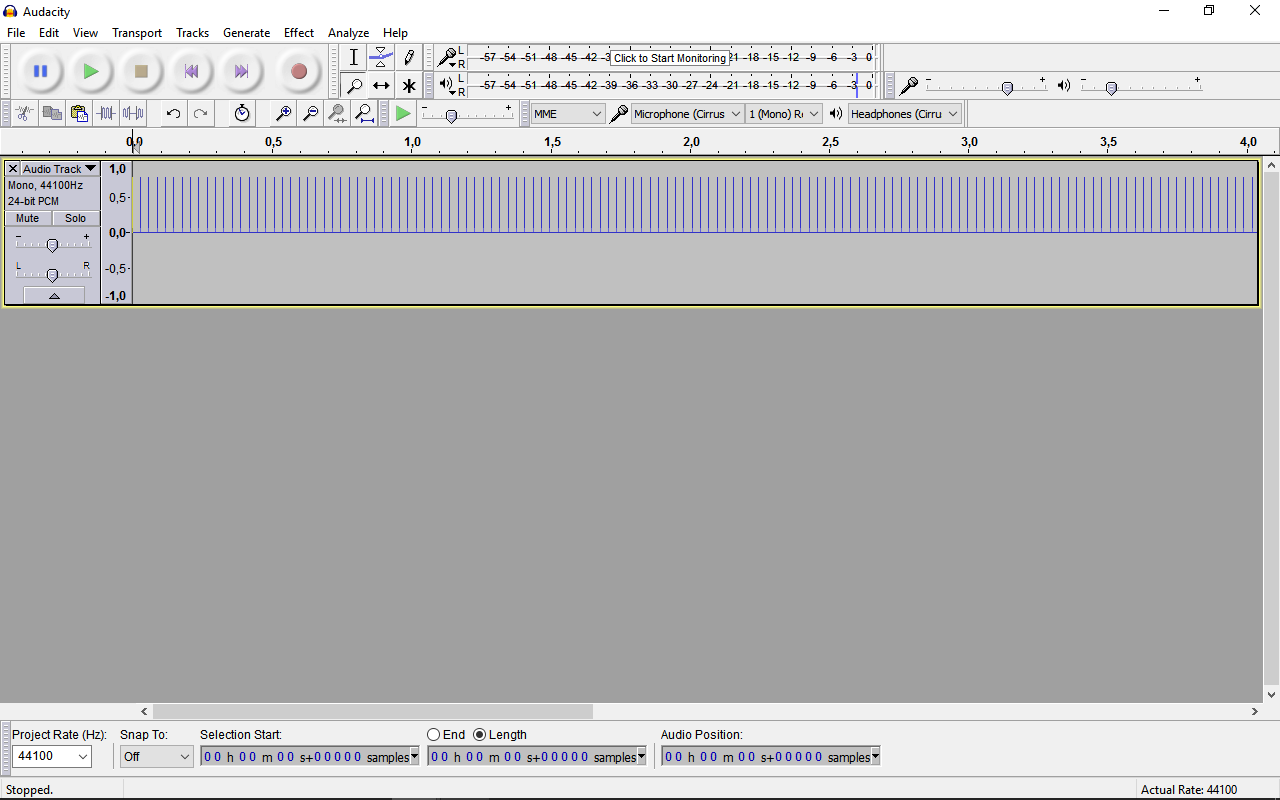 I rendered the above test project with the replaced sample. Here's what I got: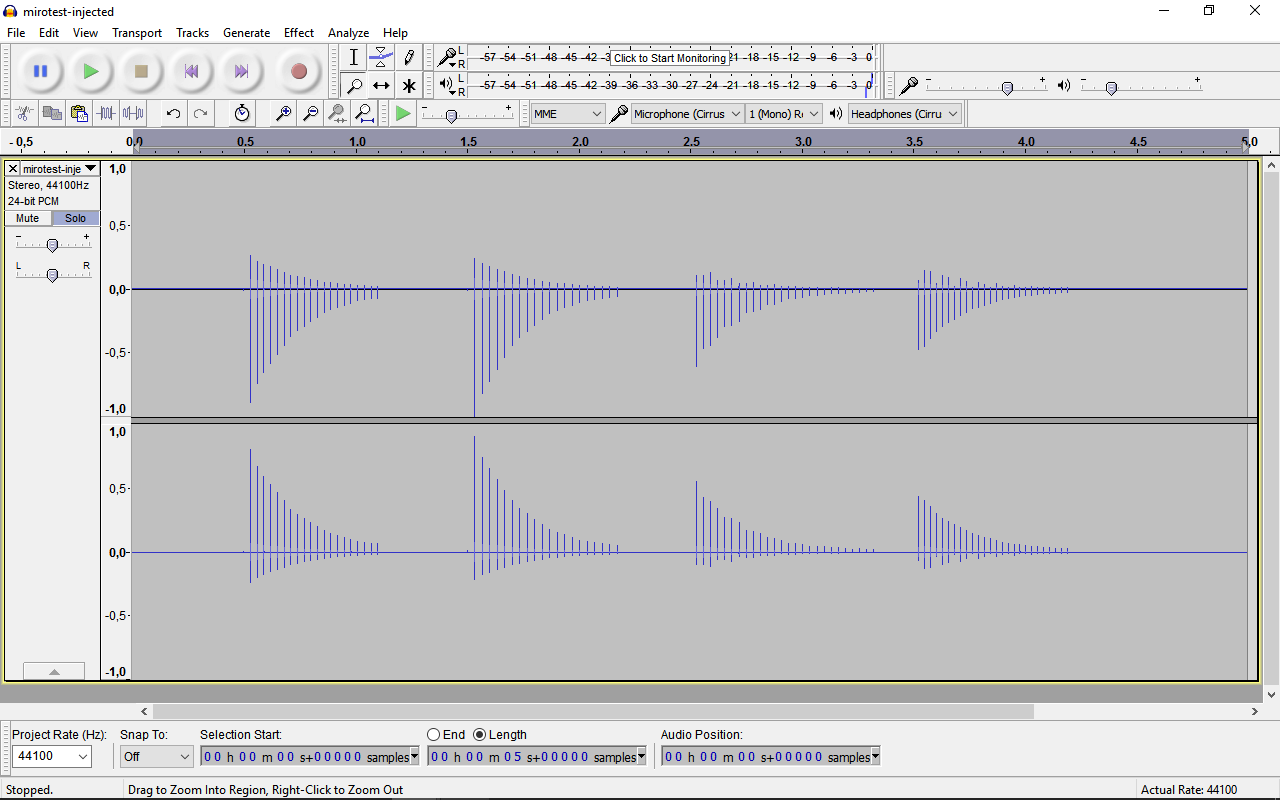 Here's the sound file if you want to look at it yourself. Turn down your volume before listening:
https://www.dropbox.com/s/o0ubxzomyubth5...d.wav?dl=0
This seems to indeed be the case. The impulse train shows up in both the left and right channels. It appears that the sampler adds slightly different ADSR and slightly different filtering, as well as flips the polarity of one channel.
I might test with a few more different waveforms, but the evidence is compelling.
Stereo would have been cool, though.